https://www.youtube.com/embed/J2ERT5akT70

WHO IS INEZ?
Inez Bracy is a renowned radio talk show host, TV personality, World traveler, Life Coach and award winning author. Inez has a passion for helping solo boomer women to confidently and fearlessly redefine their solo lifestyle.

BOOMER WOMAN
YOUR TIME IS NOW!
NOW is the time to discover your divine truth: you ARE smart enough, good
enough and loveable!
Inez Bracy travels the world confidently and unafraid meeting and engaging with people. She traveled fourteen countries in fourteen months. Being in Southeast Asia, China, Australia, New Zealand and the South Pacific opened her eyes, heart and soul to a freedom she had never before experienced. She is passionate about sharing this with other single, divorced and widowed boomer women.
You see she is single and traveled solo the entire time, meeting many beautiful people along the way.
She found that most of the people traveling were happy and enjoying life. Her hope is that you solo (single, divorced, widowed) boomer woman get to see, experience and feel the world on your terms, to reconnect with your goddess, your soul and your femininity. She sees you confident, enjoying life, unafraid, traveling and living boldly.
To all outside appearances, boomer women are enjoying life more than ever before, and for good reason.

You're:
starting your own business

retiring with disposable income

living in places that make you feel safe
But, even with all of this, there is one eternal question that boomer women struggle with daily "How do I fill this empty hole inside?" You know the empty hole of fear that keeps you from dining in restaurants, shopping and traveling alone.
Throughout the ages boomer women have accepted this feeling as ordinary and customary. This feeling holds you hostage in your comfort zone which often feels like a prison.

It doesn't have to be this way!
You'd willingly spend a few minutes to learn new ways of directing and developing your mental and emotional energies so as to destroy that unwanted feeling.
Did you ever stop to think that the average boomer woman is bombarded with more than sixty thousand thoughts each day? It's the knowing how to apply your brain-power—how to think, how to reason, how to conserve mental energy, how to concentrate, that alone can help you fill that empty hole inside.
But, there is more!
What would it mean to you to destroy that unwanted feeling and embrace who you really are? Click to Tweet

This is the one great heart and soul aim of which you are ever conscious—to fill the empty hole inside, to be confident and fearless.
No boomer woman desires to continue living in a prison seemingly forced upon her. She realizes that the whole purpose of existence is growth – that life is dynamic, not static.
That it is ever moving forward, not standing still. That confidence and fearlessness are all different manifestations of the infinite energy in which we live and move and have our being.
If only she knew how…
Meet Inez Bracy — the voice for boomer woman's confidence and fearlessness
Since starting her business from scratch ten years ago in her home, she's helped thousands discover and uncover their truth. These women reconnect with their soul, unleash their goddess, tap into their femininity, embrace their bliss, are fearless and confidently live boldly.
What would it mean for you to:
reconnect with your soul

unleash your goddess

tap into your femininity

embrace your bliss

travel fearlessly

confidently live boldly
See yourself living your life as one great big adventure doing what you love every day. This may sound simple but what you love changes over time and you have the ability to change your life to match your passion.
Choose to live in an attitude and state of mind of total bliss daily experiencing many things in this extraordinary world is yours for the asking.
Learn From a Recognized Leader and World Traveler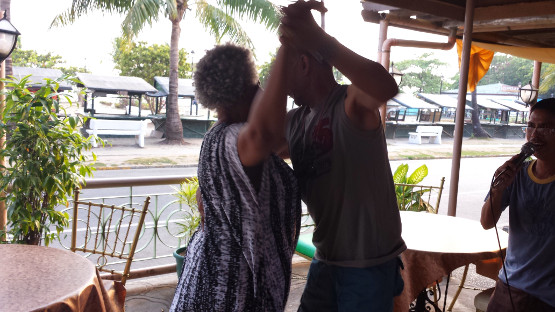 Inez Dancing, Subic Bay, Philippines
Inez read books, magazines and watched movies, always dreaming of traveling the world. In these stories, she would see and feel herself in faraway places. She yearned to travel and experience the smells, sights, food, wine and people.
One dream was her constant companion, to sit on a dimly lit piazza sharing food and wine talking and laughing with people from around the world while listening to a local band. She could see the people, taste the wine, hear their accents, see their faces and touch their hands.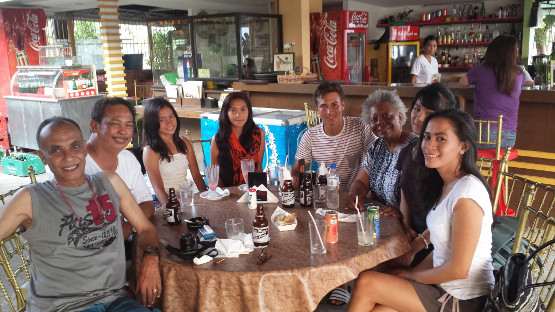 Inez, Subic Bay, Philippines
This dream became her reality during her first month of traveling abroad. It occurred naturally and felt so familiar that she didn't recognize it because it was with beer instead of wine!. Upon reflection the next morning it 'hit her like a ton of bricks! She screamed with joy, her excitement had no boundaries because the experience was priceless and perfect. It matched her dream!
Inez traveled solo to fourteen countries, meeting people from across the globe. She noticed that travelers were happy, enjoyed what they were doing and most of them spoke English!
Her desire is for you to experience the same! Dine, shop and travel solo. Solo travel is very rewarding because the only requirement is to please yourself!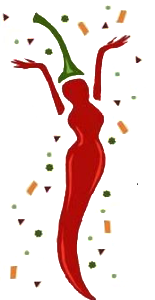 Get Started With Inez Today
Inez' simple and practical tips will help you easily tap into your inner resources to fill the empty hole, be confident and fearless living joyfully, spiritually connected and authentic. See yourself experiencing the joy of dining, shopping and traveling solo.
Inez' dynamic products and programs help you grow yourself, become confident and fearless traveling the world, dining and shopping. These products and programs range from online strategies to self-mastery building blocks to success mindsets.
Inez' signature program, Sassy Phenomenal Inspired Classy Empowered Yummy (SPICEY) woman helps you fill the empty hole, gain confidence and become fearless. Click here to join the SPICEY4Me Club™ today for monthly phone calls, podcasts, Google Hangouts, Periscopes, PDFs and other surprises with Inez.
These coaching calls and other goodies provide information and strategies to support you on designing your life your way; to support you in becoming authentically you. You also receive all call recordings and some special surprises. It's a great way to get started at a super low investment. Take advantage of this special invitation now.

Latest Blog Posts
What is the fate of women over 50 in the workplace? According to an article in the New York Times by Patricia Cohen women over [...]
WOW!  Is that reflection really me? Such a shock to see your reflection while walking past a mirror and see your beauty! The surprise of [...]
Why is now the perfect time to recapture your bliss? Because now is the only time you have; this second, minute or hour. Putting it [...]